This post brought to you by No nonsense. All opinions are 100% mine.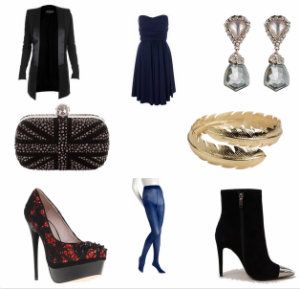 No nonsense tights and leggings are great addition to accessorized the outfit to make it look more playful and beautiful. And, these can be found at food and drug stores as well as mass retail stores. No nonsense tights and leggings are affordable made for every woman out there! 
To be fashionable and stylish doesn't mean; you have to wear an expensive suit or dresses, jewelry and make up. A simple leggings or tights can bring a difference to an outfit.
Check out the outfit that I created; a plain/solid deep navy blue colored dress, ankle knee boots, deep red/ burgundy stiletto, a clutch bag with rhinestones, leaf gold tone design bangle, a pair of beautiful dangled earrings and solid colored No nonsense tights. I'm glad that I don't have to wear a high end leggings to complete my outfit, and to look fabulous!
No nonsense tights and leggings, enables women to update and change out any look with simply adding some stylish, colorful and affordable leg-wear. Like lipstick, tights can be a great statement piece to lift your mood and extend your wardrobe.
No nonsense tights and leggings make it easy to add a pop of color to every outfit. No nonsense is ensuring that all women can experience "style made easy". No nonsense is modern, stylish and relevant to every woman's fashion!
Jill Martin is partnering with "No nonsense" and is educating women on how to wear the new colorful tights and leggings! She is the brand Ambassador and style expert for launch of new tights and leggings, as the new ambassador Jill will be featured in a series of online vignettes that show women how to wear the latest trends that include colored tights and essential leggings.
She is very important in the fashion world  because she is the expert when it comes to fashion and "She is stylish, modern and knows how to make the most out of every outfit in her closet without spending a fortune." Jill Martin is also an Emmy Award-winning TV personality and co-author of the New York Times best selling style guide " I Have Nothing to Wear!" She is also the New York correspondent for access Hollywood.